Almere, The Netherlands, December 4, 2022
We are Mark and Amerensia van Houwelingen. We have been married for over 33 years and have lived in Almere, a beautiful green town in the region of Flevoland in the Netherlands, for more than 40 years. In this town we met, got married and had our two children. We also spent most of our time working in Almere. Mark has worked outside of the polder from time to time, but he now has a job close to home. Mark works in logistics and Amerensia in primary education, but not for long, because on December 31 we will both leave our jobs and move to Droiteval in France to make a new start with "Le Val de la Bonne Vie".
In 2021, we decided to take a year to think about what we still wanted to do in/with our lives. In 2022, we have both turned 55 years old and the idea of continuing in the same way until retirement did not really appeal to us. For a long time, we have noticed that the hustle and bustle of life and work leaves us with little time to spend with other people. And that's something we'd like to do more of, really have time for people, listen to their stories and really pay attention to them. Undertaking stuff together or providing the space and facilities to really be themselves, relax, enjoy nature, good food, etc. Throughout our lives, our faith in God is an important source of inspiration and energy. It gives us something to hold on to, even in difficult times. We have taken this new step, trusting God, knowing that he is always with us. This is our philosophy and our motivation, but all are welcome here, no matter who you are and whether you believe in something or not.
Perhaps you already understand a little that the old monastery we have been allowed to buy is a wonderful place to give shape to our passion as described above. We would love to meet you in this beautiful place, whether you are looking for peace and quiet, want to take time to reflect, want to write a book, or are simply looking for company from a fellow human. If you would like to get to know us better, if you have questions about our history or if you are curious about this ancient monastery, we would love to chat with you. Hopefully "see you soon". Of course, you can also send us an email.
Our daughter Gwen will also join us in Droiteval: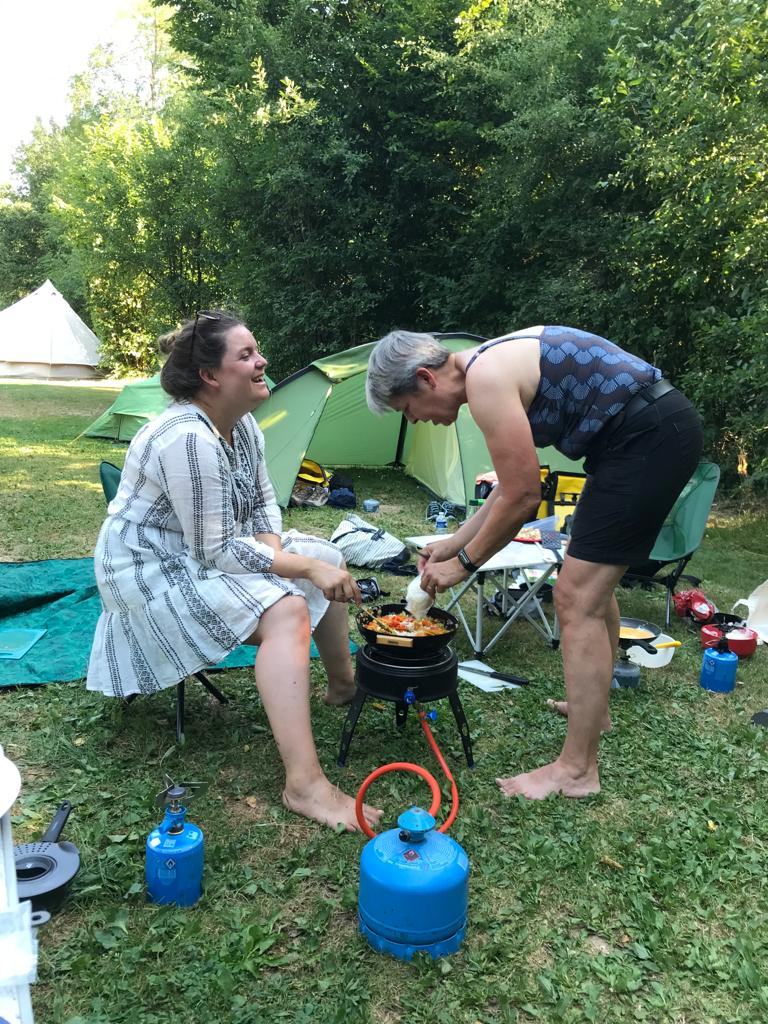 Hello friends, my name is Gwen (28). I study Forest and Nature Conservation in Wageningen and I hope to graduate in March 2023 and settle in a beautiful place somewhere in the monastery garden. In the summer of 2022, I cycled to Droiteval to see for myself if this place was as beautiful in reality as it seems to be in the pictures and stories, and the answer is yes! You will find me regularly in the kitchen, in the studio, in the garden or in the woods. I love that we get to live here, and I am extremely excited to share life in this wonderful place with others. Many of my fondest childhood memories are at the kitchen table of a small terraced house that, despite its modest size, was never too small to accommodate people. I hope that with all the space we have been given, we can make the Val de la Bonne Vie at least as warm and welcoming as our kitchen table was for my friends and all those who have joined us. See you in Droiteval!
Follow us on instagram to see what we get up to!